Claire Bailey started working with me in the studio this spring, and since then has become a great printer and friend. As someone who normally works alone and lacks regular adult human interaction, it's so nice to have a funny, smart chick to hang out with in the studio from time to time. We were brainstorming over the summer about ideas for a calendar – and Claire thought of the idea of having one plate run through the entire year, with a new color added every month. I was instantly in love with the idea. I was super intimidated, however, of having a 12 color print at the end of the year. So, I designed this branch that slowly bloomed – it's height in July – then withered back down to the bare branch. There are a few of the summer months with 6 and 7 colors, which felt like plenty. It also felt like it made sense – carrying us through the natural progression of the plant at roughly the right time in the year.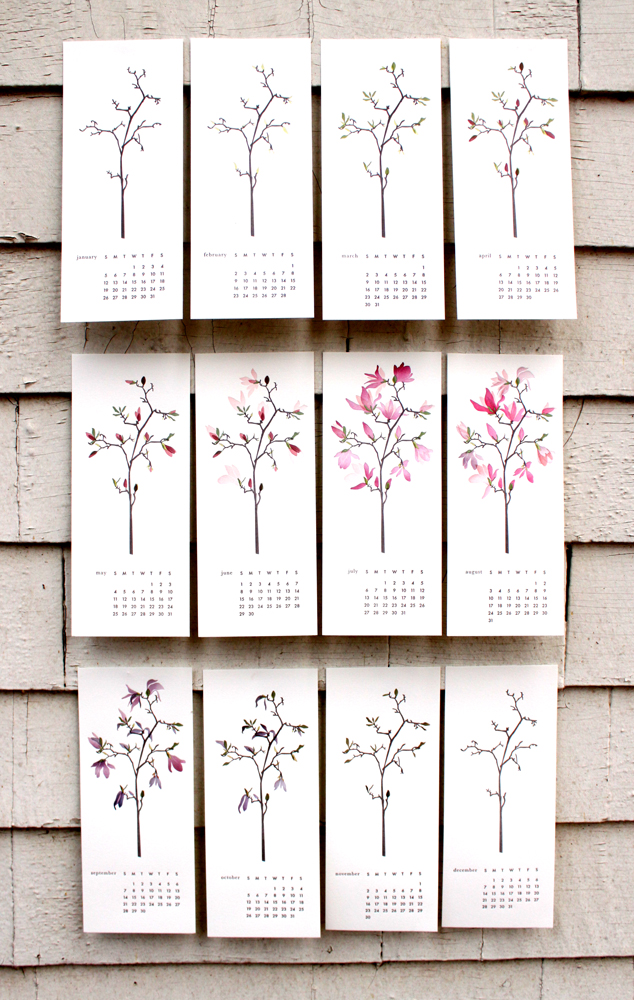 I studied painting in college and love it when I feel I can bring a painter's sensibility to my print work. Normally, I'm focused on crisp lines and uniform planes of color. But for this project, I wanted to capture the ethereal nature of the branch and blooms with all of their subtle variations. I wanted it to feel like a series of watercolor paintings. When I print, I normally let the ink fully distribute on the ink disk and rollers before starting. For many of these prints, especially for the floral parts, I kept the ink disk from rotating so that the rollers would pick up patches of ink instead. When it inks the plate, there is a lot of gradation from color to color. The results are delicate, organic and down right gorgeous, in my ever so humble opinion.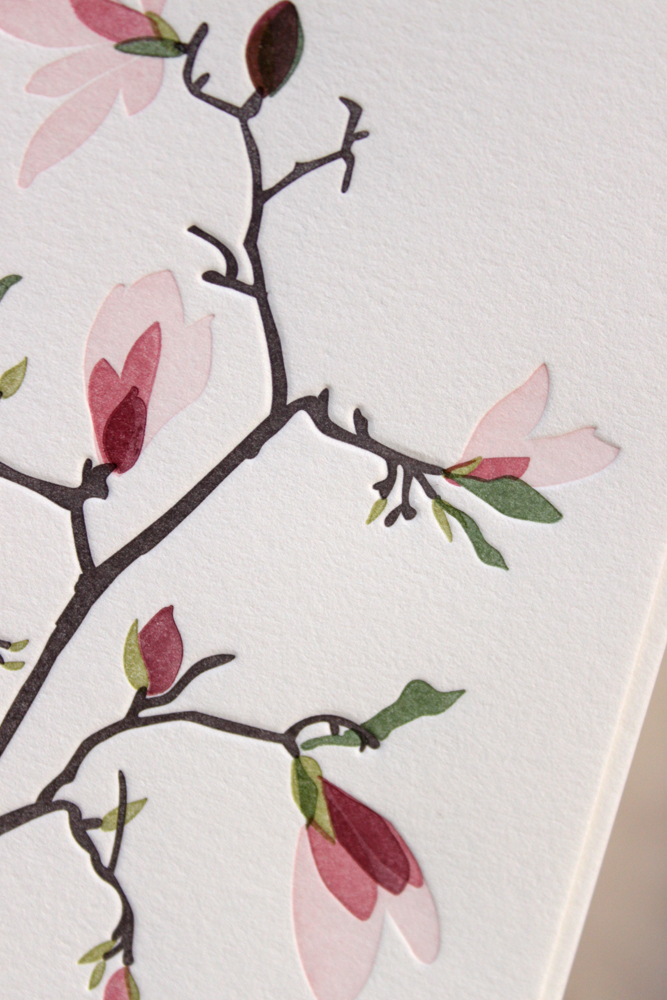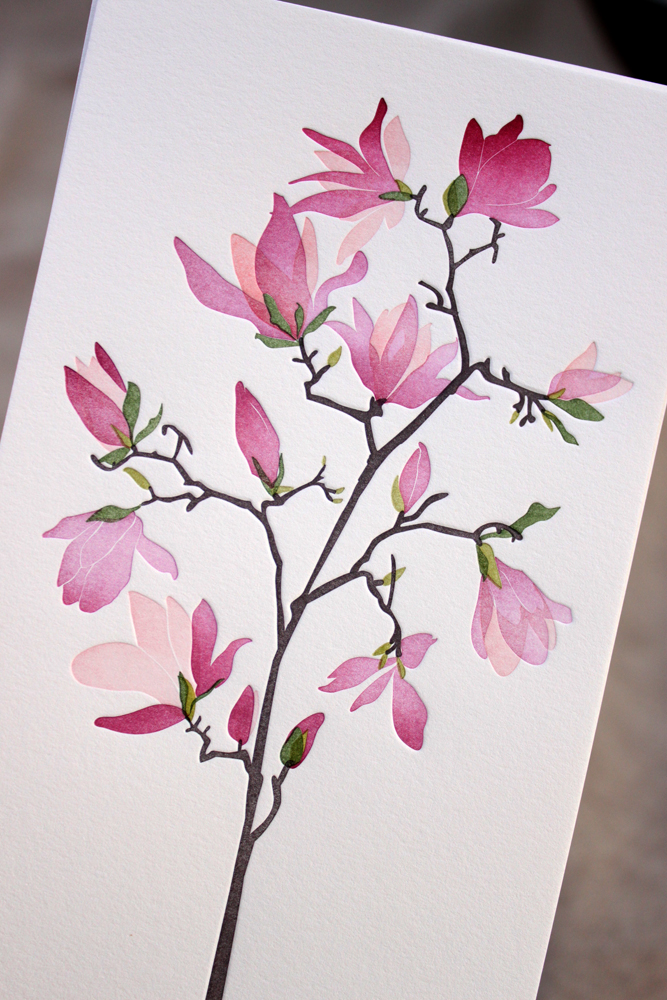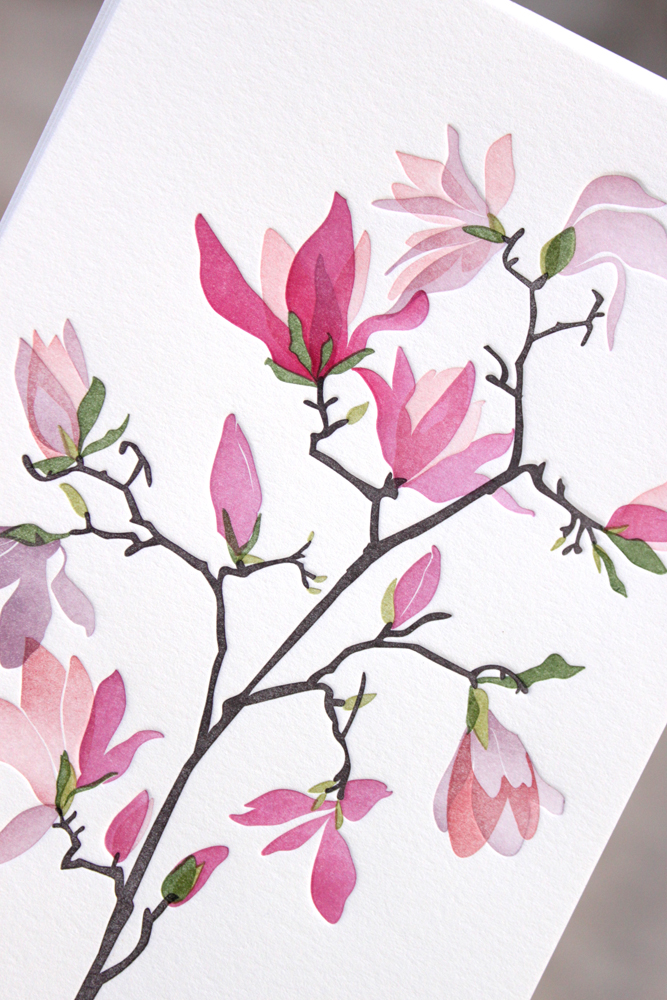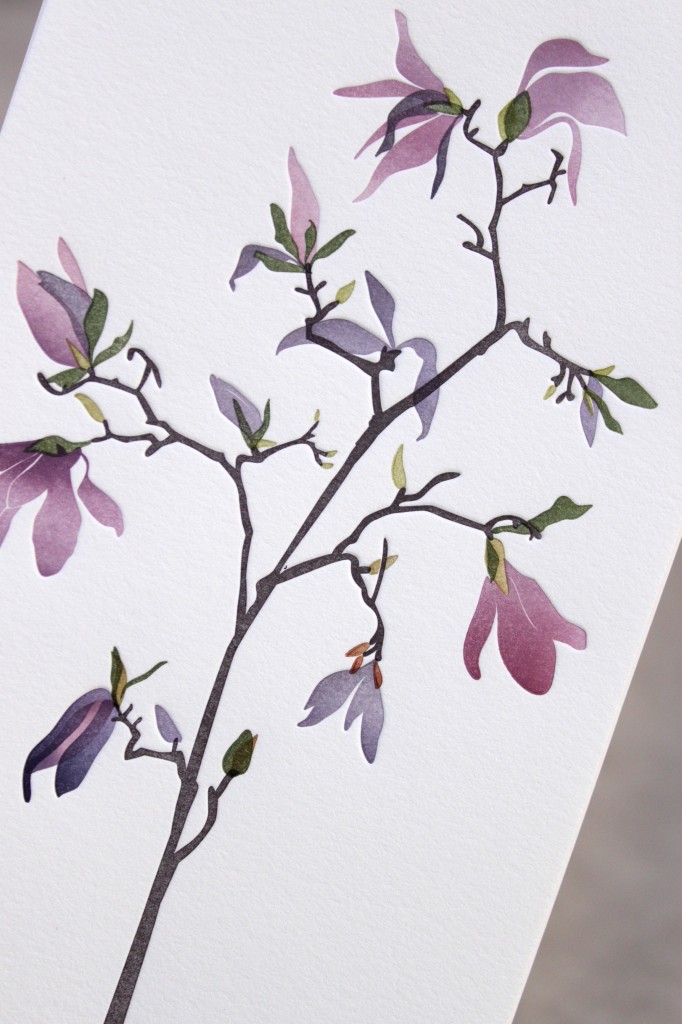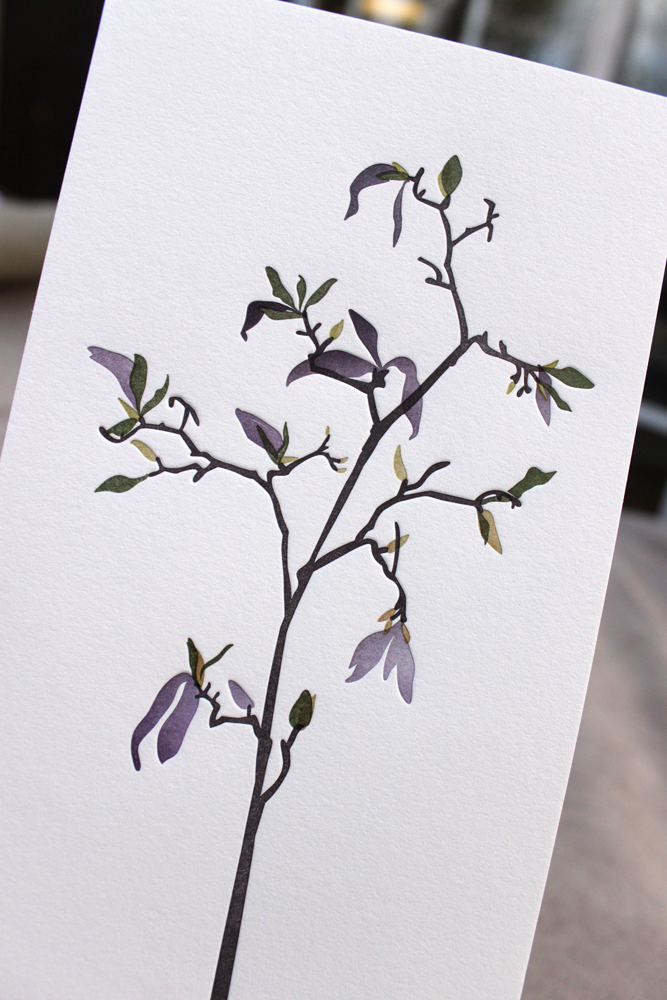 Another thing I love about this calendar is that it embraces and showcases the printing process. Many people don't know that with this type of printing, each color is run through the press separately. So, for the months with 7 colors, that single sheet of paper is hand fed into the press 7 times. Meaning Claire and I fed the cards through the press about 9000 times to yield 200 calendars. Despite being incredibly labor intensive, it was a whole lot of fun for a print nerd like me.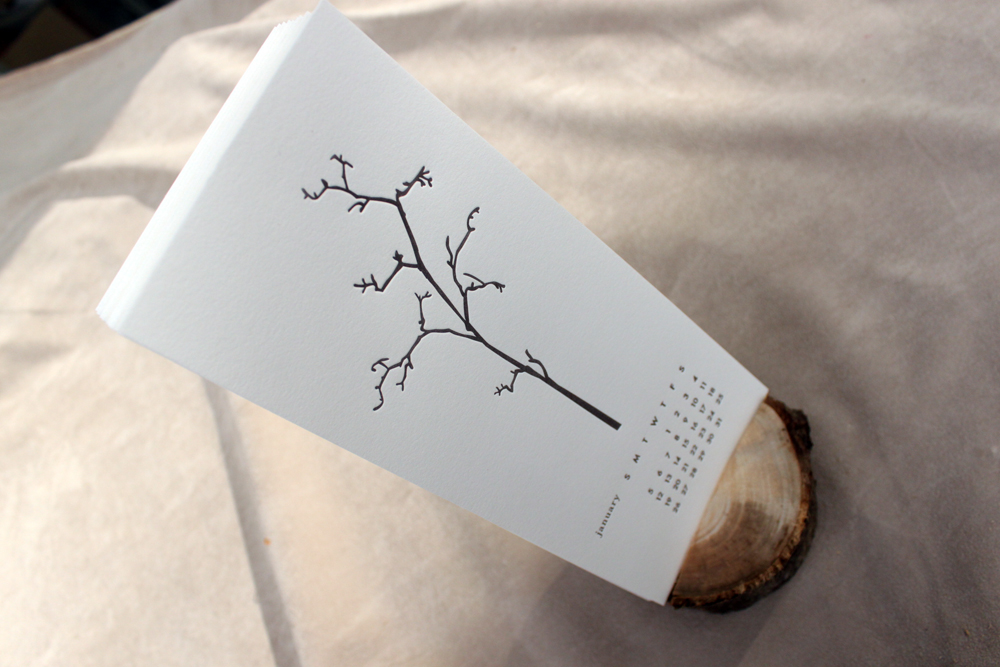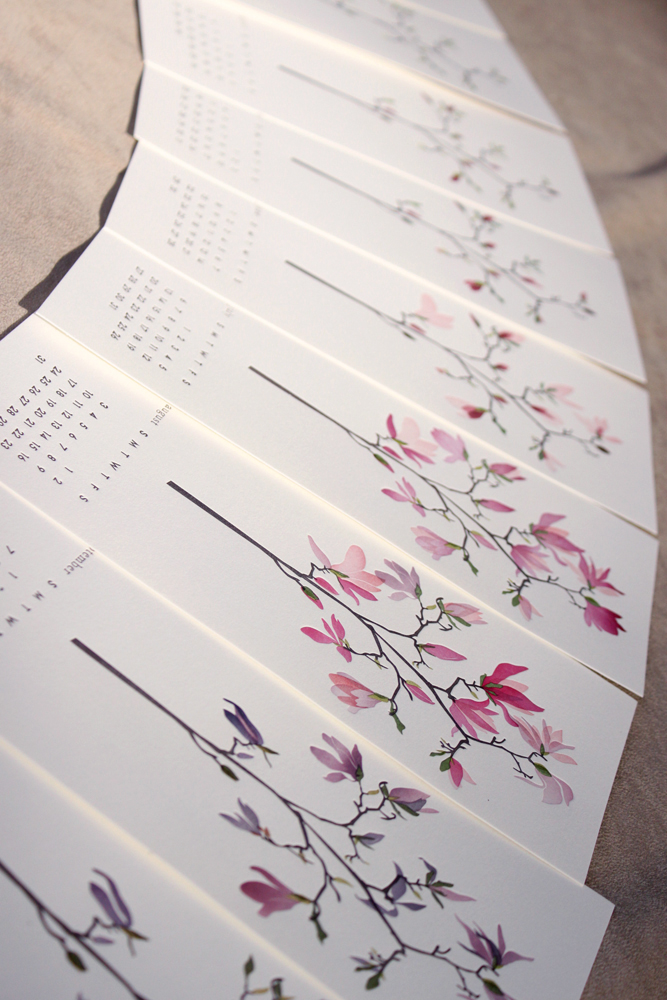 I hope you like them. I hope you want to gift them to your friends, family and yourself. I hope you embark on a year long journey with this branch as it comes into it's own, like all of us do, blossoming and flourishing and then, inevitably, withering away. I hope it brings some beauty to your desk or your wall, and that it accompanies you through a wonderful and nourishing 2014.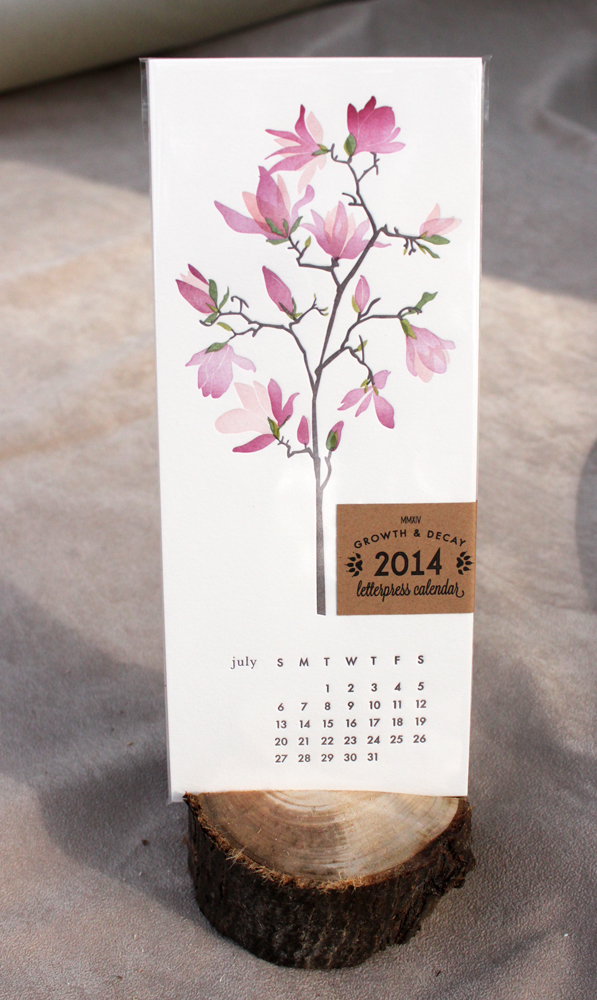 They are available in my etsy shop, with free shipping until Saturday. Thanks for checking them out!