It took me about 5 tries to log in to create this post, which I know means my blog has joined the thousands of others in Blog Heaven. Well, it's calendar season, so I'll resuscitate it temporarily to share preorder and giveaway opportunities for this year's beauty, and then, inevitably, leave it neglected for another long year. Sorry blog… I've got a new man and his name is Instagram.
Professional pictures of the entire calendar will come when they are all finished, but for now here is a bad cell phone shot that will hopefully quench your thirst in the meantime. They're going to be really pretty, promise! I'm terribly late getting these finished, as always, but they will be done in plenty of time for holiday gift giving.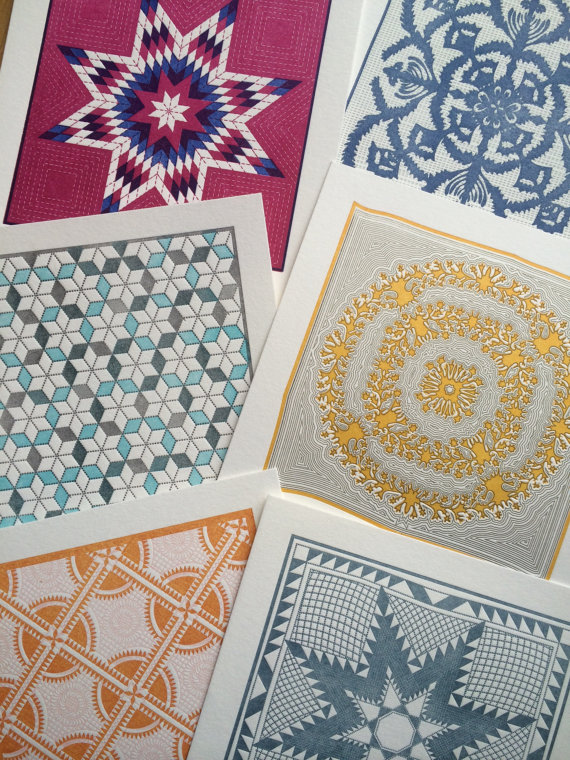 Here's the etsy link for preordering the calendar. Preordering really helps me a lot, and it helps you too! Free shipping!
BUT WAIT! There's a GIVEAWAY OPTION!!! The first 10 people who share this preorder link on Instagram, Facebook, Twitter, Pinterest (choose at least 2 of the 4) get a free 2015 quilt calendar (shipping included – $35 value). Be sure to include @mink_letterpress for Instagram and @minkletterpress for twitter as well as #minkletterpress #quilt #calendar #letterpress #giveaway along with this listing link in your posts. The first 10 people to email me (nicole@minkletterpress.com) the links to their posts along with their mailing address will get a free calendar when it is ready to ship (will be shipping in time to give as Hanukkah and Christmas gifts).